We just finished a new project for a long time client, Peter Michos, President of Resolutionary Marketing Communications. His latest report cover design showcases an elegant and forward-looking—efficient use of foil stamping and embossing.
Peter chose a combination of gloss white foil and embossed copper foil to overlay Charcoal Gray Linen, very classy! So I asked him to share his thoughts about the project. I have found Peter to be a conscientious and personable designer and recommend his council for any critical design or marketing project.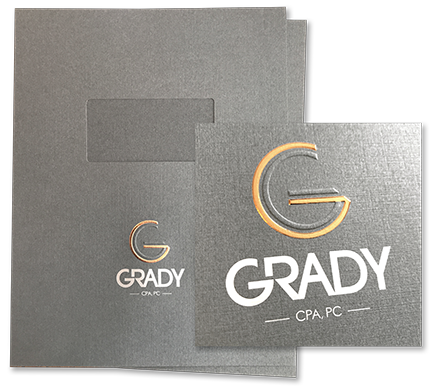 Peter's Story
It's great when a client understands the value of branding and maintains the highest quality with everything they put in front of the public and their clients. When I designed the new logo for Grady CPA, PC (rebranded after John Grady's partner retired), one of the items we needed to update immediately was the report cover sets they use for their accounting auditing reports. I immediately thought of Pocketfolder.com.
The logo lends itself nicely to embossing and foil stamping, and I knew I could achieve the result we were looking for with world-class quality and fair pricing. Ron and Sandra and team always provide great service, smart options, and timely delivery.
– Peter Michos Pres/CD Resolutionary Marketing Communications www.resolutionary.biz